Aug. 7, 2013
Whether you are in Australia, the United States, or wherever, travel days are short, disjointed days. Almost without fail, flights are in the morning after a game, which means a brutally short night having to pack either late at night or early in the morning. Neither choice is optimal.
While the packing issue is not fun regardless of where you are, there is a certain critical benefit to traveling within Australia, and that's the security line. Hugh Greenwood (our lone Aussie left with Cameron in Canberra for Boomers tryouts...he will return when we go to Brisbane) helped everyone out as much as he could, despite the fact most of us couldn't believe how simple it was.
Things you can do in Australia that you can't do in the United States: Leave your shoes and sneakers on. This rule alone explains why there were so little slip-on dress shoes in the airport. It led to the following humorous exchange between Hugh and an unnamed Lobo.
Hugh - "Leave your shoes on mate." Unnamed Player - "I can keep them on." Hugh - "Yeah, unless you have a knife in your shoe." Unnamed Player after a brief moment - "So I can keep them on."
The other thing you can do is take water through the security area as well, meaning no one had to spend $5 Australian for a bottle of water once they got through. That actually was helpful for a lot of us.
While this is a trip where basketball gets played, it also is extremely educational. That was on display today as the team and travel party went to the Koorie Heritage Trust Cultural Centre, to learn about the five aboriginal tribes of the area, and their history in Melbourne. Our tour guide Lenny, who was of aboriginal descent (a picture of his uncle was hanging in the Centre) led us first on a walkabout tour of the central Melbourne park area, where the five tribes would meet on the hill. He noted that the five tribes now meet in much more modern style, in a downtown office, meaning even the aborigines have gone corporate.
After the tour, we went back to the Centre where we learned of the different aborigine clans and their cultures, and we got to see some of the native weaponry they used to live off the land. The boomerang is not a toy...the thing is a weapon. There are actually different types of boomerangs for different animals...from birds to ones that can decapitate a kangaroo. Merv Lindsay was picked to try out an aboriginal clock and spear, a fitting present for his 20th birthday.
We also got a short lesson on the didgeridoo, an long hollowed out instrument that is played by blowing into it. Easily the best at it was Dalton Neal, Craig Neal's other son that is with us on the trip. We then got some time to check out the weapons on our own, along with some taxidermy animals of the area, such as the koala and other marsupials, along with some birds.
From there it was light other than a quick, short practice that focused on walk-through type stuff and shooting. The number of awesome practice facilities in Australia is amazing. So many great academy-type places that have multiple courts, pools, weight areas and tons of actions, kids, practices...everything. It's pretty obvious that sport is a big thing here in the country.
Of course, what gets confusing are the lines on the courts, and it's pretty much evident in the places we practice, and where we play usually. The court we practiced on today had the identical colors and markings as the game we played on Tuesday against the Kings.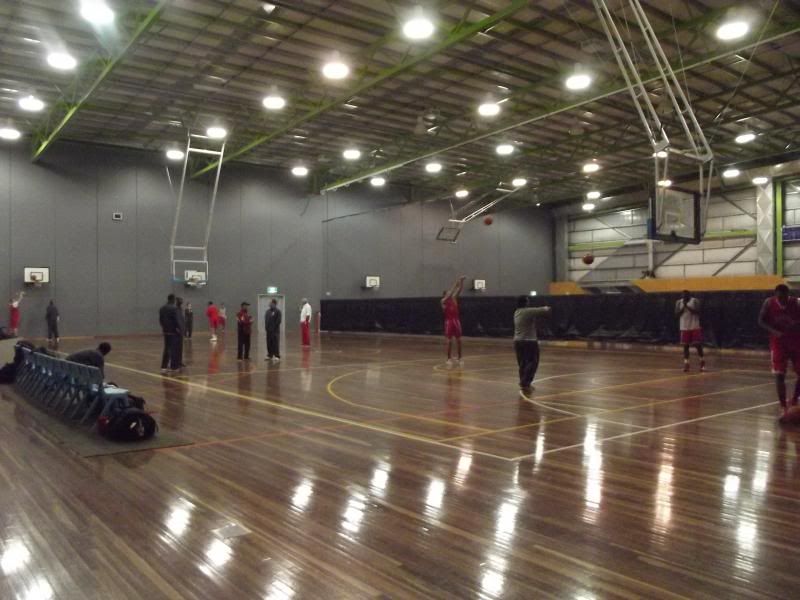 The color code is yellow is the basketball court, orange is the team handball court (which is large and runs across the court), green is volleyball, and white is the Australian sport of netball, which is played by girls here and in New Zealand. It's actually a more popular sport for girls than basketball in some areas, and contains some of the same principles, except there is no backboard, just a free standing net.
Like I said earlier, it's Merv's birthday here, as he turned 20. He of course has said he gets to celebrate twice, once here, and then again tomorrow on August 7 in the states as well. Either way I don't think we are getting him cupcakes.
One other amusing thing so far is what happens when we get to the lobby of the hotel or we go to a restaurant with free wifi. Because the international charges for data and everything on people's phones, no one does anything until they can hook into the free wifi. At that point it's 10 players, and a ton of coaches and others checking email, or twitter, or facebook, or Viber messages. I fear some Australians might think we are addicted to our phones. We just want to see what's going on back home...honest.
Cheers `mates! UNMHoops