Aug. 5, 2013
When you visit a foreign country, the general issue anyone would have would be the language barrier. Despite the fact that Australians have a few different words for things (lift instead of elevator, car park instead of garage, etc.), that barrier isn't there. What is there is the fact that everything seems backwards here.
While trying to chronicle this trip as best as possible, we didn't take video of the guys in the bathroom here at the practice gym, but suffice to say, there was a rush to see if the toilets flush in reverse flow to what they do in America. Amazingly enough, it's true (Cam says it is due to the rotation of the earth, and since it's his country, every just nodded their heads).
It actually started yesterday, when our media person Frank Mercogliano couldn't find the door to the bus, because it's on the left and not on the right. The driver's seat is on the right and not the left, although the order of the pedals is the same in Australia as it is in America (clutch, brake, gas ... you don't want to screw that one up when driving).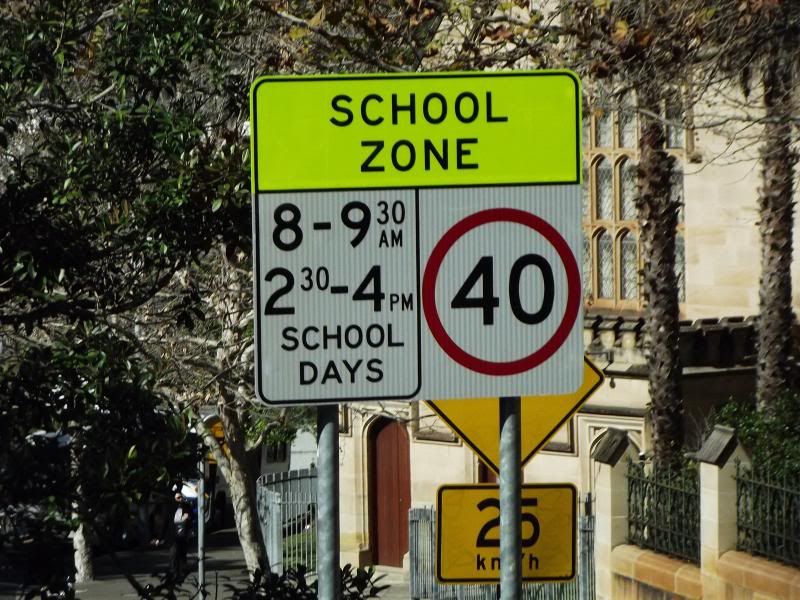 Of course everything is in the metric system, so when they announced the temperature was 14 degree, Tim Myles, who is from southern California, about had a heart attack until we told him that was Celsius. The license plates look like something out of an early 80s Bond film, and the speed limit signs are sort of hard to miss with the giant red circle around them. Again, guys were excited to see a speed limit sign of 90 until they figured out it was in kilometers.
We won't even get into the gas stations, which have the prices in Australian dollars per litre (and yes, they spell it litre and harbor, just like in England)
The day was kind of broken up into three segments, with a walking tour of the Sydney Harbour Bridge and Opera House in the morning, practice in the afternoon, and then a rugby match in the evening.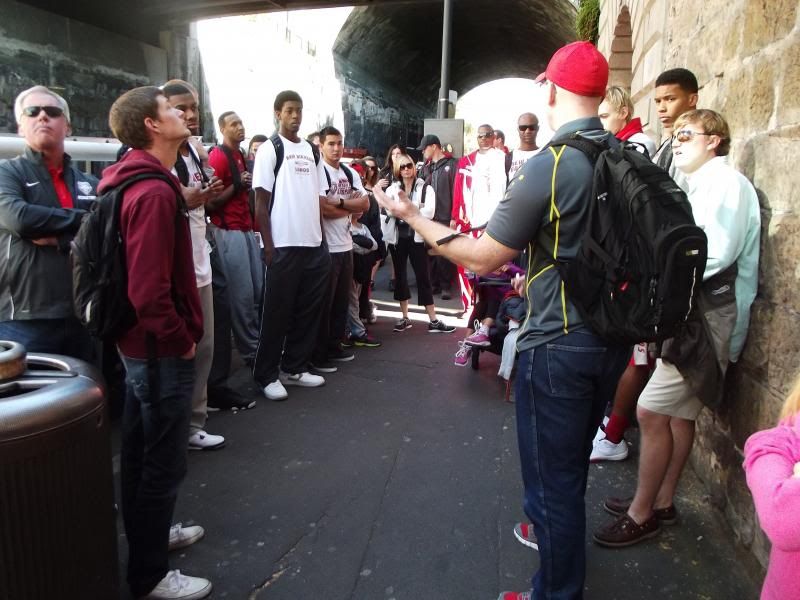 The walking tour was rather long, but certainly provided for a chance for guys to get out and not only see the city (which is deceptively huge), but the see the opera house from the bridge. It also allowed for the team to notice the fact that Sydney is a fit city. Everyone it seems is out running or jogging. One woman who was jogging wanted to get a picture with several of the Lobo travel party, but doing of all things a push-up contest.
Sydney is a very walkable, clean city, and everyone seems in a good mood, which makes sense when you live in a paradise such as this.
In most of the pictures and things, the team is represented with a very noticeable exception ... Cullen Neal. Cullen was in a bit of discomfort after the 14-hour flight, and it progressively got bad enough that required a trip to the doctor. That trip turned into emergency surgery for an appendectomy for Cullen, which is never good, but if it's going to happen in a foreign country, Australia is one of the top places on the list. The fact that we practiced basically a stone's throw from the hospital, which made it easy for Coach Neal to handle practice and then walk right over to the hospital to see Cullen.
The tricky thing is most of us on the trip don't have cell phones that are working here, so communicating between the hospital, family at the hospital, and the coaching staff at the hotel or wherever is tricky. That's where our tour guide Michael Edwards, an Aussie native, has been fantastic. He has been an invaluable resource and go-between, and the fact that his wife works at the hospital is an added bonus.
The guys were given the mantra that even without Cullen, we continue on, and that's what happened. Practice was spirited again, and that's not a surprise and under Coach Neal, practices have been pretty crisp, but very fast paced. There isn't a lot of wasted motion, movements, or time in a Coach Neal Lobo practice.
It's amazing the switch the players make from having a good time on a walk or on the bus to all-business at practice. It's something that only winning can breed, and the veterans who have won have already taught the newcomers what it takes. It's a culture of winning, which is great to see.
This was the last practice before our first game, and the Sydney Kings are a solid squad, featuring a former NBA Draft choice, and several former NCAA Division I players. Our game isn't in their regular building, as they move their exhibition games around the city. The place we are playing holds a little less than 1,000 fans, so it won't be quite like The Pit, but the opponent will certainly be very skilled and good.
We ended the day at a rugby match. Whatever similarities there are between American football and rugby are purely cosmetic. It honestly looked like a bunch of people running...every now and then they would get tackled, and they can't pass the ball, at least not forward. Once a guy scores what looks like a touchdown but is called a try, they get four points, not six. Then the designated kicker gets to tack on an extra point, but it's worth two points. Bizarre doesn't even begin to describe it. Aussie Rules, which is Australian Rules Football makes a little more sense, and certainly more high scoring. Hopefully we can see one of those matches before we are done in Australia.
If you want to get up in Albuquerque to listen in, the game is at 3 a.m., and the Sydney Kings website will have an audio stream. There will be plenty of live tweets on twitter @UNMHoops, and of course a full recap and blog as well.
Cheers 'mates!
UNM Hoops