Lobos Down Under, Day 7 - Finally...Kangaroos and Koalas!
Courtesy: New Mexico Athletics
Release: 08/10/2013
Aug. 10, 2013
Some travel days are dreaded. Wyoming for instance...it's a plane ride of about 70 minutes, and then a bus ride almost double that. That's no fun. However, for today's travel day everyone was jumping and chomping at the bit, because we knew where we were headed: to the famed Gold Coast of Australia.
When you have a travel party of 37 (it was 39 but Janet and Cullen Neal are still in Sydney. Coach Neal said to the guys today he is starting to feel a little better), it takes a little longer to get through the group security. Most players have one bag, but pretty much everyone else has two, and we have little ones with us, so there is a pram and stuff like that. It makes for quite the spectacle when we arrive at the airport.
For the most part, Australian airports are like little malls, with tons of shops and things of that nature. They have your newsstands, and your fast food joints, mostly the same one's we have in the States. They even have Hungry Jack's, just like we do. Oh wait, we don't have Hungry Jack's. Well, let me explain. Hungry Jack's is actually Burger King. Apparently when Burger King attempted to start franchises in Australia back in the early 1970s, there was one small take-out burger restaurant (called a take away restaurant here) called, you guessed it, Burger King. They would not budge on the name, so the Aussie ownership corporation was given a list of names, and now Hungry Jack's is where you get a Whopper here. Same burger, but you have to ask for the lettuce and tomato, and it costs a lot more.
After landing in Brisbane, we took a bus ride up to the Gold Coast, and everyone switched from our Melbourne cold weather gear into shorts and t-shirts for the trip to the beautiful Currumbin Wildlife Sanctuary. Our tour guide Michael said we would get a chance to get up close with the kangaroos and koalas, but no one had an inkling how close.
The koala cage is right at the front, there most were sleeping in the trees, although one little guy was pretty hungry and was chowing down on some eucalyptus leaves. Another mommy koala was sleeping in the tree with a baby on its lap, which was too cute.
Next to that area was a spot where for $19.95 you can get a professional picture while holding a koala. Now, these little guys are cute, but they have HUGE claws. Thankfully, they are used to the handling and many of us parted with the red bill (the $20 bill is red here) and got our picture.
There are the normal enclosures with wombats, Tasmanian devils, snakes, crocodiles (including the largest one in Australia). The aviary is actually the largest walk-through aviary in the southern hemisphere. However, it was starting to look like a zoo when Coach Neal looked ahead and remarked "what is Hugh doing?"
From where we were, it looked like Hugh was petting a kangaroo, which we all thought was some magical Australian thing only he would be able to do, but nope, the kangaroo enclose has about 50 kangaroos, who hop all over the place, or just lie there, and get fed by the visitors. You can pet them, walk with them, obviously take a picture with them. There were huge ones, and little babies. We all know they aren't like that in the wild, but at Currumbin, they are the friendliest little guys, and their fur is amazingly soft.
Whatever the price of admission is there, it's worth it just for that. There were a ton of pictures taken, and by and far it was the talk of the trip.
The final game is tomorrow, which will again be Cameron Bairstow-less, as he is playing with the Boomers (they rocked Butler tonight 96-57 after leading by 15 at the break). Hopefully we can see Cam's family however. According to the Queensland Basketball League website, the game, which is at 5 p.m. tomorrow here, 1 a.m. in Albuquerque, will feature...get this...live singers and dancers, a canteen, and a bar. That will be interesting to say the least.
This is the first blog by the way that didn't have to get done around midnight our time, which is awesome. Here is Hugh Greenwood and Alex Kirk interviewing a kangaroo, and yes, I can't believe I just typed that.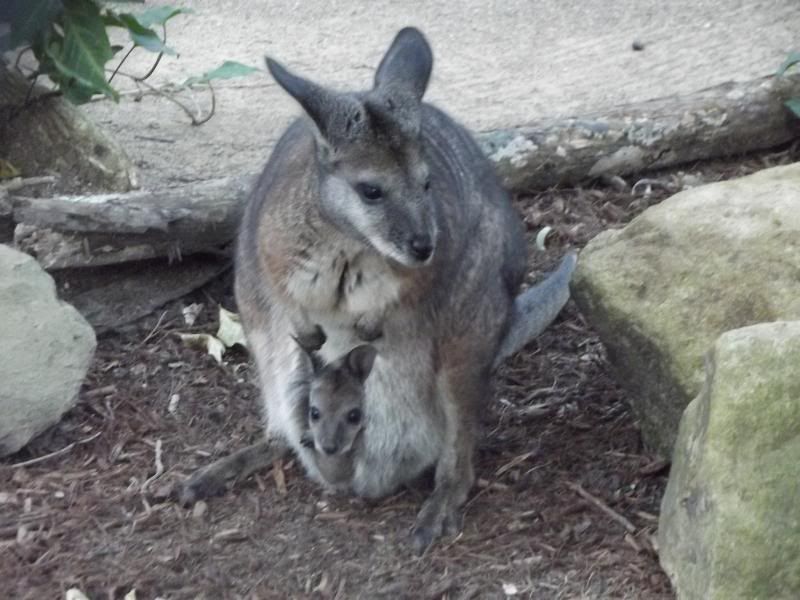 Cheer Mates, a Tie Me Kangaroo Down, Sport! UNM Hoops