Lobos Down Under, Day 8 - Just When You Think It's a Normal Day...
Courtesy: New Mexico Athletics
Release: 08/11/2013
Aug. 11, 2013
Day 8 - Just When You Think It's a Normal Day...
I'll get to the game in a minute. Australia is beautiful. The people are beautiful. There is nothing not to like about this country, and this place we are in, which is the Gold Coast. But with it being game day...it seemed fairly normal.
Sure, a couple of guys took a dip in the hotel's salt water pool where you can snorkel with fish...yes, you read that right. Some folks went for a dip in the regular pool which overlooked the inter-coastal and the salt water pool. But it was a fairly mundane day at the hotel. Pregame meal was good. Good bus ride over to the game. Good game. Good ride home... a happy ride home after a two-point hard fought win over a pro team featuring three ex-national team members.
Then we got to the hotel. Kevin McCurdy the graduate manager could have swore he saw a lady in a wedding dress, which wouldn't make much sense with it being Sunday, but maybe Australians have Sunday weddings. When one of the little kids got excited about a giant frog...well, that was when we were in for a little treat.
Apparently, in the hotel, there is some sort of conference, and part of it had folks decked out in costumes. We saw Slash from Guns'N'Roses, and yes, we found Waldo. They generally stayed away from us, until Coach Neal's interview started with Hugh and Alex, and then two guys dressed as female bees (I think...) came over and crashed the interview, which is below at the bottom of the page. The guys took it in good stride, which I think can show you how well this team and staff can handle a curve ball. And that was a mighty odd curve ball. Such is the Gold Coast!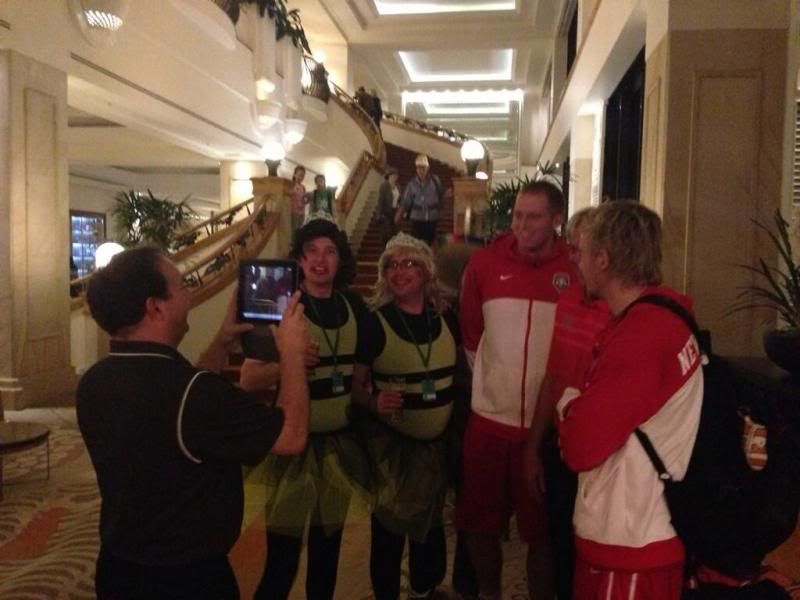 The game was very much like the other games in this exhibition tour. A tight one, and for the second time in three games, the Lobos had to play defense on the final possession. For the second time, they locked down and got it done. In today's game, up 82-80 after a Cleveland Thomas free throw with 30.5 left (and after UNM used up its lasts foul with 22.4 left), the Gold Coast All-Stars had the ball to tie or win on the final possession. The Lobos were guarding the rim and the paint, and Willie Farley had to take a contested 25-footer with Arthur Edwards in his grill. That shot missed badly...so badly the rebound flew back out over Arthur and back to Farley, who was able to get off a 30-footer at the buzzer that was online but long.
It was fitting that UNM's defense played the final possession so well, because the defense in the fourth quarter was solid the whole tour. UNM gave up just 35 points, or an average of 11.7 points in the fourth quarter. When the chips were down on this team, which made three fourth quarter comebacks on the tour, they responded, which is surely a good sign.
The Gold Coast All-Stars were just that, a professional All-Star team, including three players who played for the Boomers, the main team that Cameron Bairstow just qualified for. Thalo Green played for Washington in the late 90s (averaging 10.9 points as a senior) and is 35 years old. Willie Farley is a Fresno State graduate who was an NBL perennial All-Star known for his three-point shooting. This was an extremely talented, big, physical team.
The Lobos had a 13-point advantage at one point in the first half, up 41-28 before the Gold Coast went on a 15-4 run over the final 3:23 to knot the game at 45 at the break. A quick second half start saw Gold Coast jump to a 52-45 lead before UNM roared back with seven straight of its own, including a Devon Williams dunk and three points from Cleveland Thomas. The Lobos would find themselves down at the third quarter break 67-65.
Arthur Edwards, who was aggressive and all over the place most of the night, tied the game with a pull-up jumper, and Thomas, who scored 15, gave UNM the lead for good at 69-67. The Lobos would never trail again, but could never get the lead past four. Up 77-75, Alex Kirk scored the last of his 18 points on a nifty hook shot with 2:31 to go.
Gold Coast answered with two free throws, and after a couple of empty possessions each way, Hugh Greenwood got fouled and while falling to the floor flipped up an unreal spinner for a basket. He missed the free throw with 1:19 left, but UNM was up 81-77. Farley showed off his range with a deep contested three with 55.0 left, and it was 81-80. UNM forced a stop and Thomas was fouled, making one with 30.5, setting up the wild final sequence.
The Lobos shot 44% for the game, and outrebounded Gold Coast 46-37. Kirk had a double-double of 18 and 13 and Kendall Williams was close with 15 and nine assist. Greenwood added 16, Thomas 15, and Edwards had 10.
The Lobos went 3-0 without Cameron Bairstow, but everyone was happy to see the rest of the Bairstow clan (Ian and Penny, and his siblings Kieran, Jarred, Daniel, Sean, Melissa and Stephanie) make it out to the game. It gave UNM just that much more support (including a pair of UNM graduates that are engineers in Brisbane that drove up for the game...Lobo fans, they are everywhere).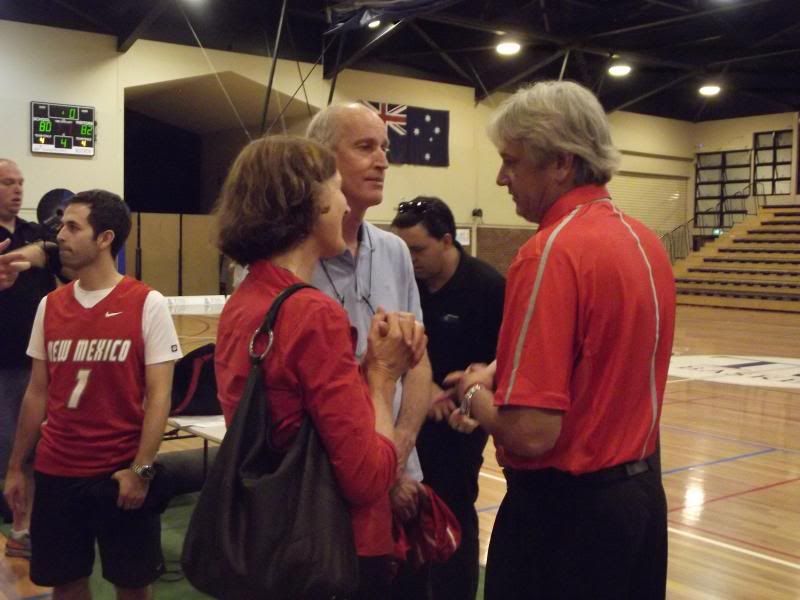 The players came over and all introduced themselves to Ian and Penny, and you could tell they had mixed feelings...they have not seen Cam play for the Lobos, so this would have been their first chance. However, playing for the Boomers is the highest honor in Aussie basketball, and they are extremely proud (as are we). They have thoughts of coming at Christmas, but I tried to convince them that Senior Night would be better...they have no clue how much our fans love Cam, and it was hard to describe.
Tomorrow is our last day in Australia and the guys will have a surfing lesson at 9:30 in the morning, which should be fun. We should actually have some media there, as Gold Coast Councilman Glenn Tozer is trying to drum up media interest in the excursion. Mr. Tozer couldn't have been more effusive in his praise of our travel party, and the way our fans have responded to our trip, this blog...the Yahoo Dagger Blog...everything. He thanks us for writing such nice things about his city, the trip to see the kangaroos...everything. Of course, when you are hanging out and playing basketball in paradise, it's easy to say how beautiful this place and country is. One more day here and then a long plane ride back.
For all of us but one. Coach Neal leaves us tomorrow to head back to Sydney to see his son. Cullen, Coach, and Janet will stay back a day or two in Sydney, while Dalton comes back with us. This trip has been awesome, but it's a little incomplete without Cullen and Janet here. All of us can't wait until he can rejoin us.
Enjoy Hugh, Alex, Coach Neal, and the guys dressed in costumes. In the hotel lounge area on our way back from dinner there were people dressed as Thor, Santa, the Grinch, and two women in Captain America costumes hanging around. Australia!
Cheer Mates, a Tie Me Kangaroo Down, Sport! UNM Hoops